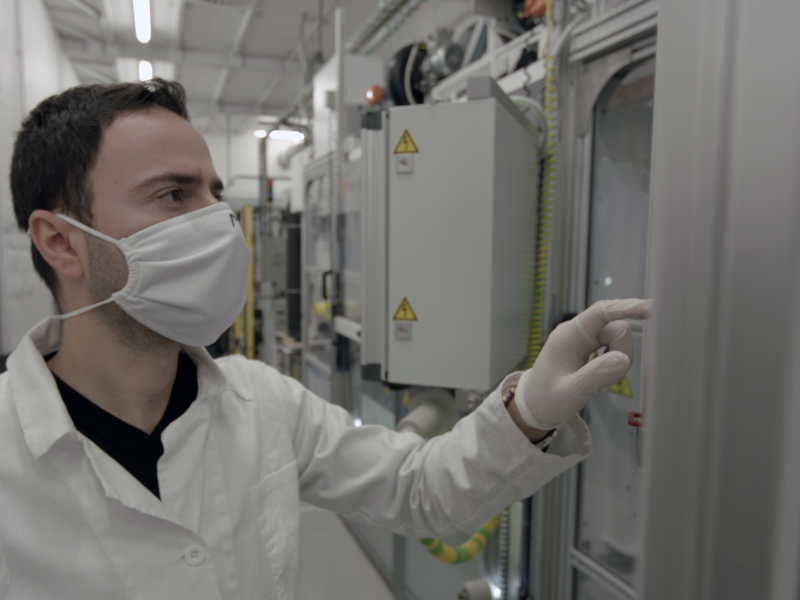 Press release - Opening of a nano-factory
NAFIGATE Park started to produce membranes from nanofibers in the village of Andělská Hora near
Liberec. Membranes become part of face masks and respirators, later also air filtration equipment
water.
The production of nanomembrane on well-known Czech Nanospider machines in a factory in northern Bohemia will be
production of face masks and respirators in Pilsen. These protective medical devices will be NAFIGATE Park
together with its industrial parterue. Due to the never-ending pandemia of the coronavirus, which
a large part of the world is still significantly affected, and the demand for protective equipment is also growing.
NAFIGATE Park, which focuses on industrial production, has recently separated itself from the
NAFIGATE Corporation. The team from this company has been researching nanofibers for fifteen years.
Nanomembranes of the highest quality
"Our goal is to offer people very effective protection against viruses, bacteria and dust
particles," said Michal Mareš, director of NAFIGATE Park. He believes that production is
produced nanomembrane pays off. According to him, customers will gradually learn to distinguish between products,
which use the term 'nano' as a mere marketing ploy, and those that represent a technological
industry leader.
Nafigate Corporation's nanomembrane was also tested by the Academy of Sciences' Institute of Instrumentation
Czech Republic, which in the past helped to make Brno famous as a world centre thanks to its research and development
electron microscopy "Nanomembranes are perfectly compact, i.e. they can be
high efficiency in particle trap even on a nanometer scale," summarised the main result
testing by Eliška Materna Mikmeková from this institute.
Protective equipment, which includes a high-quality nanomembrane, can be washed, variously sterilized and
repeatedly – even 50 times, even for several months. "We specialize in high-tech
in the nanomembrane area, i.e. a relatively small segment. Our products will be relatively expensive,"
co-owner of NAFIGATE Corporation, Lenka Mynářová. The company recently acquired
european patent. Production will amount to tens of millions of face masks and
respirators per year. NAFIGATE already registers demand both in the Czech Republic and abroad -
europe and other continents, such as the Arabian Peninsula.
Former textiles
Nafigate Park opened its first nanofiber membrane factory on the premises
former textile factories Feigl & Widrich in Andělská Hora. It was built between 1904 and 1907 and today
is a cultural monument.
In addition to the nanomembrane production itself, the factory will also have its own R&D department.
"We want to set the course for development in our field and we intend to maintain our position as a
innovative society," stressed Michal Mareš.
Many years of research into nanofiber membranes will now move into mass production thanks to
european funds , namely through the domestic Operational Programme Entrepreneurship and
Competitiveness Innovation (OPPIK). Funding for the nano-factory project in Andělská Hora
shareholders of NAFIGATE Corporation.
Lenka Mynářová points out that sectors that require long-term research have so far
for example, with information technologies, venture capital remains a party to the spotlight in the Czech Republic.
However, the co-owner of NAFIGATE Corporation sees hope for Czech start-ups in the future in new
programmes of the European Union - The Recovery Fund and the Just Transition Fund.
Nanospider is making its way
Two Nanospider machines for the production of nanofiber materials were delivered to a factory in Andělská Hora
elmarco. The famous Czech Nanospider technology, which was created thanks to the invention of
Technical University of Liberec in 2003, it will also use laboratory equipment in the
nafigate park department.
"Nanospider machines are the only ones that can produce nanofibers on an industrial scale and
with such quality. We have the latest generation of machines in Andělská Hora," said Michal
Mareš.
NAFIGATE Corporation has been cooperating with Elmarco for a long time. On her machines before
several years ago, it launched a pilot production of nanomembrane and tested customer requirements. NAFIGATE thus
has already started, to a limited extent, the export of membranes that will serve in different parts of the world
to purify water and air. However, due to the coronavirus pandemia,
medical devices.
Innovation in the Czech Republic
Thanks to Nanospider technology, the Czech Republic has significant innovation potential. "We have overtaken the world and
we can produce nanofibers of the highest quality," says Lenka Mynářová. By noting that this technology
developed in the czech republic, Czech scientists and developers have a strong competitive advantage – it is
available throughout the chain, from research to industrial production. "In addition to nanofiber membranes
there are very few industries that we can say that the world's largest production capacity is in our country,"
supplied by Lenka Mynářová.
Nanofibers have great advantages. While nanoparticles are being criticised for
ecosystems and organisms, nanofibers do not carry similar risks.
For further information, please contact: Lenka Mynářová, lenka.mynarova@nafigate.com
Press release download here.