We are very proud to be part of the Czech pavilion at EXPO2020 in Dubai with our nanofiber products. Please visit us at the Rotational Exposition Nanoworld 31/12–14/01.
o nás
O NAFIGATE Park
NAFIGATE Park s.r.o. byl založen jako první závod na výrobu nanovláken patřící do skupiny NAFIGATE Corporation a.s.. Společnost Nafigate Park s.r.o. byla k 1.2. 2021 kompletně vyčleněna ze společnosti Nafigate Corporation, a.s., vlastní ji skupina investorů z České republiky a začíná psát svůj vlastní příběh ve světě nanotechnologií. Výrobní společnost s vlastním centrem pro výzkum a vývoj vznikla ze zápalu pro nanovlákna a jejich optimalizací podle potřeb našich zákazníků.
Tým stojící za NAFIGATE Park sestává z expertů s více než 15letou zkušeností v oblasti vývoje a výroby nanovláken. Část týmu stála u zrodu technologie Nanospider ve společnosti Elmarco. Věříme, že nanovlákna jsou materiálem budoucnosti a že mají v dnešním světě důležité místo v ochraně zdraví.
Nanofibers
What are nanofibers?
Nanovlákno je očima neviditelné a je tak malé a lehké, že jeden gram nanovláken by obtočil Zemi kolem rovníku.
They have a huge specific surface
One square meter of nanofiber membrane has the same surface size as a football field.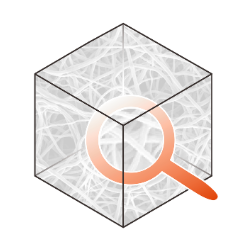 Pores between nanofibers have dimensions of about 180-450 nanometers, creating functional barriers for sub- micron particles such as bacteria, viruses or other allergens whilst letting in molecules of air.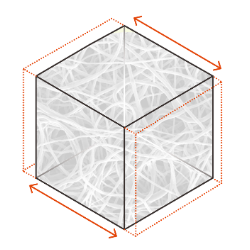 We can control the diameter of the fibers according to how we need to apply them.
Nanofibers are fibers with a diameter range of several nanometers to approximately 180 nanometers. One nanometer is 0.000000001 meters or 10 ا9 meters and is only visible to the eye with the use of a scanning electron microscope /SEM/. For comparison, a human hair has a diameter of
about 75,000 nanometer
Scientists were able to produce the first nanofibers as early as the first half of the 20th century, and therefore this is not new in the scientific community, but in the past only a very limited amount of nanofibers could be produced with the technologies of its time and was therefore not suitable for any industrial application. With the introduction of Nanospider TM technology in the early 21st century, industrial scale production of nanofibers began to be possible.
Nanovlákna
Jak nanovlákna aplikujeme?
V případě jakéhokoliv dotazu nás prosím kontaktujte prostřednictvím formuláře.